Boat Dock Replacement Parts
RDS DOCK Repair & Maintenance
A correctly installed and well-maintained boat dock should be safe, functional, aesthetically pleasing, and provide many years of trouble-free enjoyment. However, accumulative stress from nature's forces or damage from accidental impacts can seriously compromise the safety of your dock. If your dock has been struck or has ice damage from freeze-up or springtime ice flow, RDS Dock Hardware has the replacement and repair parts you need.
RDS dock parts are among the strongest and most durable available. Our marine-grade, non-corrosive cast aluminum boat dock hardware and stainless steel fasteners won't rust, twist, corrode or warp. In addition, our dock poles are schedule 80 aluminum. This means their thick wall structure withstands heavier loads and inclement weather conditions.
Getting Started
While some repairs may require a professional dock installer, many can be completed by the DIY handyperson. We'll guide you through the parts you should inspect and replace when maintaining your dock for maximum safety and appearance. Here are a few of the issues that many boat dock owners have encountered.
Has your dock been hit?
Look for signs of structural damage.

Inspect the exposed pipes or posts and replace any that are bent or cracked.

Inspect all connectors that secure your dock sections together or to other structures. 

Any broken connectors such as 

corner

, 

side

, 

brace

, or 

bumper brackets

 should be replaced. 

Replace supports or bracing that are cracked or bent, such as 

aluminum pipe

.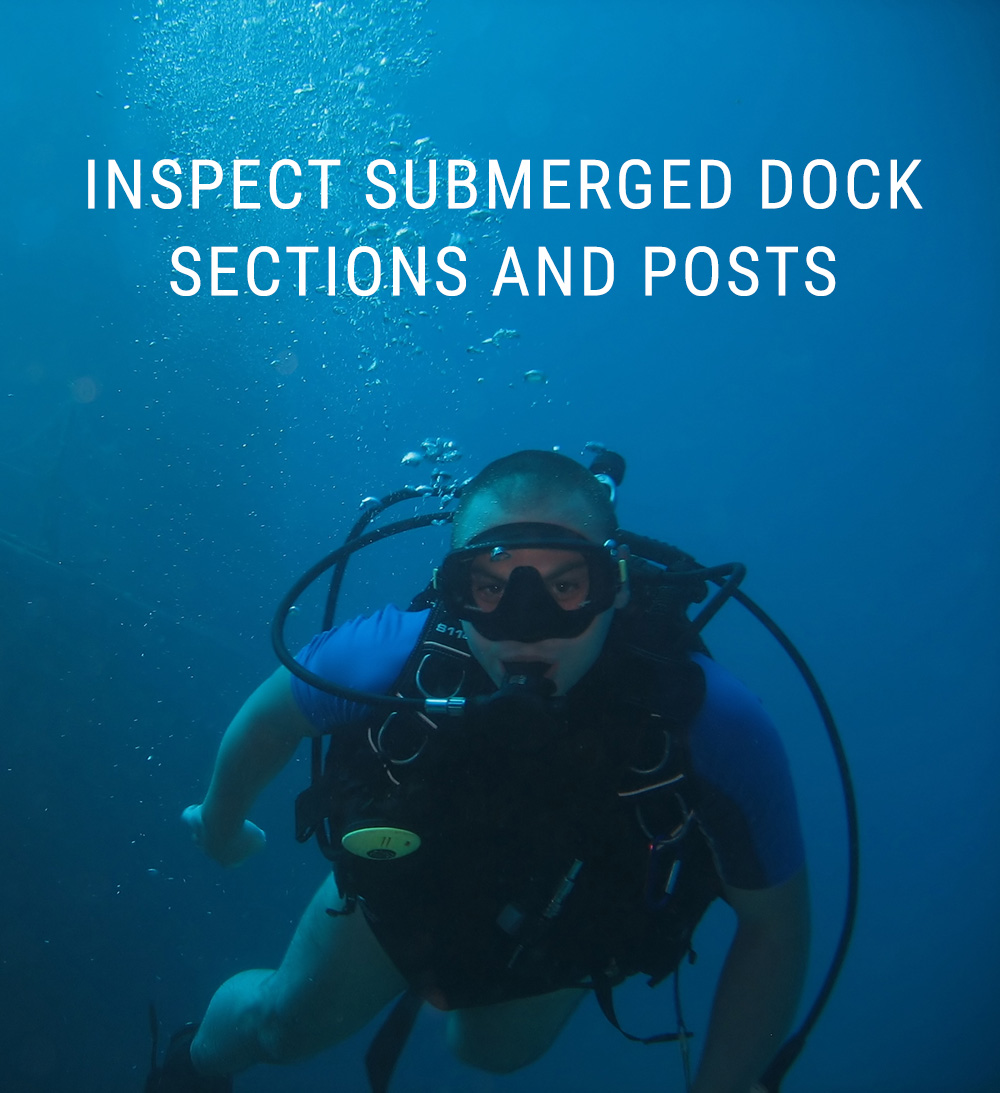 Yearly Maintenance
Whether you leave your dock installed year-round or install and remove it seasonally, you should regularly check your dock for worn or cracked parts. 
Inspect the anchor posts. Is there ice damage?

A dock left in the water can be shoved around by large springtime ice sheets.

As with docks that have been hit, inspect not only the exposed dock but also the submerged sections. 

Inspect submerged dock sections using scuba gear or a facemask, or lower a submersible camera or fishfinder down near the posts.

Or maybe it's time to upgrade your dock.
Regular boat dock cleaning keeps your dock safe, and protects the environment and your investment.
How to clean a dock
Clean your dock at least once a year to keep it in good shape.

Dirt, grime, and organic growth may all undermine the structural integrity of your dock. Clean in the gaps, remove stains and look for signs of wear and tear.

A poorly maintained dock can negatively affect aquatic habitats, including submerged grasses, fish spawning areas, plants, and animals.

When cleaning your boat dock, use a non-corrosive cleaning solution—baking soda, a water-based dishwashing detergent or a gentle, eco-friendly soap. 

Softwash the dock with a hand brush or a scrub attachment and no- to low-pressure water.

Avoid cleaners with harsh chemicals like ammonia, phthalates, and phosphorus.
How to level a dock
Does the dock have low and high areas, or is one side higher than the other?

Look for fasteners that are not appropriately secured or have come loose over time. 

Adjust the deck height on the supports.

Are the poles or posts leaning but the deck seems to be level? 

This is most likely something in the submerged or bracing hardware.
RDS Has All of The Boat Dock Parts You Need to Replace, Repair, Maintain or Upgrade your Dock.