High Quality One-Piece Aluminum Dock Frames 
Easy to install.

Easy to transport in and out of the water. 

Easy to maintain.

Utilizes a box-style extrusion. 

Two stringers reduce deck bounce and increase strength. 

Cross-piece to increase stability and ensure dimensional uniformity. 
Dock Installation—We Cater To Your Workstyle
Shop for your dock hardware and install your dock system.
We Ship Your Dock System; You Bring The Installer.
Do It For Me—RDS Turnkey solution. We Bring the Dock, Hardware and Installer.
Direct From THe Manufacturer—Made in the usa

New Hampshire foundry, Patriot Foundry & Castings, Minnesota foundry, Ermak Foundry & Machining, Missouri foundry, Superior Aluminum Castings and Ohio foundry, Cushman Foundry manufacture RDS dock hardware using marine-grade 535 aluminum alloy.
Save time and money. Purchase your dock and dock hardware straight from the manufacturer. 
Our extensive field experience in casting, constructing, and installing docks gives us insight into creating dock parts suited for actual field and marine conditions. We control the critical components of the dock structure. Our products are robust and made from the highest-quality materials. You will have a reliable dock for years to come.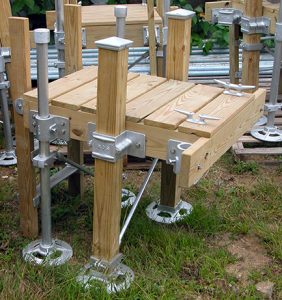 Example of the RDS difference: Our pipe side bracket weighs more and is longer, wider, taller, yet is priced less than most of our competitors. Why? Because the extra size and weight add to dock stability and part longevity, and we own the foundry, so it comes directly from the manufacturer.
RDS dock HARDWARE & FRAMES offer the best price/performance solution
Dock Hardware
We've grouped our most popular parts into Dock Hardware Kits. The navigation links under Dock Hardware help to narrow your search for groups of products. 
If you're unsure where to start or what to do, visit our FAQ page. If you still have questions, please submit your questions using the Contact Form or Dock Quote Form.
Dock Frames
We offer premier aluminum dock frames—you won't find a better frame on the market! Our rugged, lightweight aluminum frames are designed to accept different decking materials. 
Configure your dock size and design using our Dock Quote Form. We have standard sizes of dock frames in stock. We also custom-build aluminum frames to your desired length, width, and configuration. 
DOCKS DESIGNED FOR YOUR LIFESTYLE...
Whether it be a specially designed floating dock or easy access steps for your best friend.