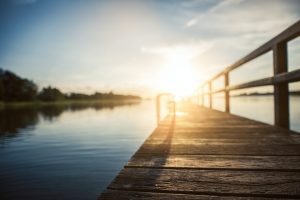 There are numerous dock designs to choose from when it comes to custom building a dock for your waterfront property. Your location, shoreline, lake bed, design preference and more will influence the type of dock you choose to install.
One common design frequently used in situations where the lake bottom is rather soft is to use pipe legs. However, the pipe-leg design can also be used in other situations as well, including rocky-bottomed lakes.
How to Build a Dock with Pipe Legs
To install a dock with pipe legs, start with the pipe base. The base should be set about a foot above the bottom of the pipe. For rocky lake bottoms, we recommend cutting the pipe at a 45-degree angle so the pipe itself is situated into the rocks. A pipe auger can be used when the subsoil is full of vegetation and organic matter.
As you begin assembling your dock, you'll want the pipe length to be the length of the water depth plus a minimum of three feet. Once the sections of your dock are assembled, you'll want to mount a pipe corner bracket on each corner of your dock. All the hardware you need for your pipe leg dock can be found here. The number of legs you'll need will depend on the size of each dock section. Bigger docks require more legs.
Once you're ready to install in the water, you'll start with your pipe base and pound your pipes into the sand using a driving cap. To adjust the height and levelness of your dock, you can use a pipe chain jack. Once level, you can secure the screws in the corner sockets in place. If you have additional dock sections and ramps, you can use side brackets to connect them.
As you get to work designing and assembling your pipe dock, our team at RDS Dock Hardware is here to help. Get in touch with us today to ask your questions about selecting the right design and hardware for your dock.