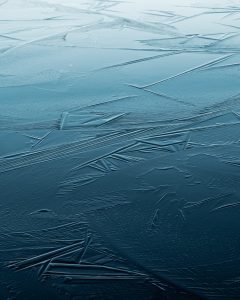 Ice can be a stealthy foe for dock owners. Though it may look innocent enough – in fact, quite charming, really, in the idyllic winter months – it can cause formidable damage to your shoreline and dock.
Fortunately, there are some easy steps you can take to safeguard your dock from ice.
Steps to Protect Your Dock from Ice
Protecting your dock from ice is crucial to preventing damage caused by freezing temperatures and ice pressure. Here are some things you can do to mitigate the damage from ice.
Store your dock for the winter – Depending on the type of dock you own, it may benefit from being removed from the water and stored in a dry place for winter. Here are some tips for winterizing your dock. If you don't plan to remove your entire dock, at a minimum you should remove all dock accessories and secure the dock for the season to minimize dock shifting and damage by ice movement.
Consider installing de-icing systems or bubblers – De-icing systems or bubblers are devices that keep the water around the dock in motion. By doing so, it prevents ice formation by maintaining open water. If you have questions about de-icing systems, give us a call. They may or may not be the most effective solution depending on your environment and shoreline conditions.
Monitor your dock throughout the winter – It's a good practice to periodically inspect your dock throughout the winter season, especially after significant weather events. Clear away snow and look for any signs of damage, shifting or stress on the dock caused by ice. Address any issues promptly to prevent further damage.
It's important to note that extreme ice conditions or severe weather events may pose risks that go beyond anything you can do preventively, but that doesn't mean you shouldn't try.
As you consider what steps to take to prepare your dock for ice and winter, please don't hesitate to ask us your questions. At RDS Dock Hardware, we've been creating long-lasting dock systems in the US since 1986. Contact us today or fill out our free custom dock quote form to learn more about how we can help.