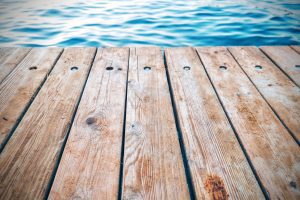 As summer comes to a close, the fall checklist begins. One area you shouldn't forget to include in your list of to-dos is end-of-season dock maintenance. While it can be easy to brush aside and say, "Oh, I'll just do that next year," taking the time to properly maintain and prepare your dock for the winter is an important step in preserving its longevity and maximizing its performance for years to come.
Before shutting things down for the season, here are some simple dock maintenance steps you should take to maximize your dock's lifespan, minimize expensive repairs and reduce unwanted safety hazards.
Inspect – Step one is to take a good look at your dock. Sure, you may walk on it almost every day in the summer, but now is the time to really inspect it. Do you see any safety concerns that need to be addressed or signs of damage, such as loose fasteners or warped boards? Take note of what you see and address them (as noted in step 3 below).
Clean – Next, thoroughly clean the dock and all accessories. Use a broom or pressure washer to remove dirt, stains and algae buildup. Be mindful of any cleaning solutions you may use to protect the water quality.
Repair – Fix or replace any issues you noted during your dock inspection. Tighten loose hardware and replace broken or deteriorated components.
Protect – Now is also the time to winterize your dock and protect it from ice and other environmental impacts. Also be sure to remove and store dock accessories in a dry location for the off-season.
Document – Lastly, it can be helpful to take note of your dock's condition from year to year. Photos can be useful, as are notes of any repairs or maintenance you've done on the dock. While it's tempting to rely on our memory, you'll stand a better chance of knowing what you actually did when you write it down or save it in a spreadsheet.
End-of-season dock maintenance helps ensure the ongoing safety, longevity, and performance of your dock. By dedicating a little time and effort to properly maintain and prepare your dock for the off-season, you can prevent safety hazards, extend its lifespan and save money on preventable repairs.
To learn more about dock design, installation and maintenance, please get in touch with us at RDS Dock Hardware.